Crucificator

Biographical Information

Status
Alive
Born
Unknown
Title(s)
The King, Lord Commander, Crown Prince, Heir to the Crown, Heir to the Throne, General, Lion King, Alpha Lion

Physical Information

Species
Lion
Gender
Male
Eye Color
Gold
Other
-

Family Information

Family
House Gold
Family Members
† Golden (father)

Affiliation

Position
King of Shazan
Loyalty
House Gold, Kingdom of Shazan, Lions

Statistics

Weapon
Crucificator
Strenght
Coming
Durability
Coming
Skill
Coming
Speed
Coming
Hit Damage
Coming
Hit Prevention
Coming
Resistance(s)
Fire
Crucificator is The King of Shazan and Lord Commander of Lions.
He holds a palace in Goldport.
Family Lineage & Childhood
[
edit
|
edit source
]
Crucificator born with his brother to wealthiest house of Shazan. House Gold, lead by Kingdoms furious king Golden. Crucificator's mother, tiger Daera, raised two little boys while father was going to wars and only teaching them how to fight.
Crucificator was handsome, popular and ready to get his throne. Though, he had to realize, that he isn't going to have The Golden Throne for a while.
He had many friends - who later on turned to enemies - but was so impatient and arrogant, that many hated and feared him. He didn't get critic, because he was a prince.
Accursed went more and more away from the family. The black sheep of House gold. Soon Accursed disappeared and Crucificator along with his family thought he's dead and they buried him, although he was alive.
X
X
Crucificator can be seen in three out of four Shazan novels. Although, he is mentioned in the first novel, West Rock. He makes his first appearance in Golden Palace.
X
X
X
X
X
X
Fighting abilities and skills
[
edit
|
edit source
]
Crucificator is one of the strongest enemies in Shazan. He has good resistance on ice, and is very damagedealing person. He is strong and hits hard, but is not very fast or agile. Though he never uses martial arts, because he can use the Crucificator.
Crucificator had got best available training, and can kill you in 2 seconds.
---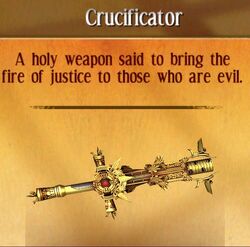 Crucificator is a special weapon in Shazan. It is second most dangerous weapon in Shazan, losing only to Kisin's Hand of Kisin.
---
Damage: Extremely high. A direct hit is absolutely fatal. It is an explosive weapon, so it has a blast radius that can deal damage to other targets. Hitted target also get burn damage, what does serious damage too.
Range: Good, though not as far as a sniper rifle. In order to fire this far, however, weapon needs to be pointed up so that it arcs. Ammo can explode in the air, if targeted too long away.
Fire Rate: The fire rate is quite slow, but not bad considering the devastating damage.
Reload: Not so bad, because weapon kinda doesn't need more than few shots.
Ammo: The ammo is quite low, holds only 6 grenades.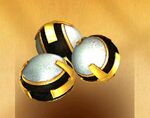 Community content is available under
CC-BY-SA
unless otherwise noted.